| | | |
| --- | --- | --- |
| Translate | | |
About us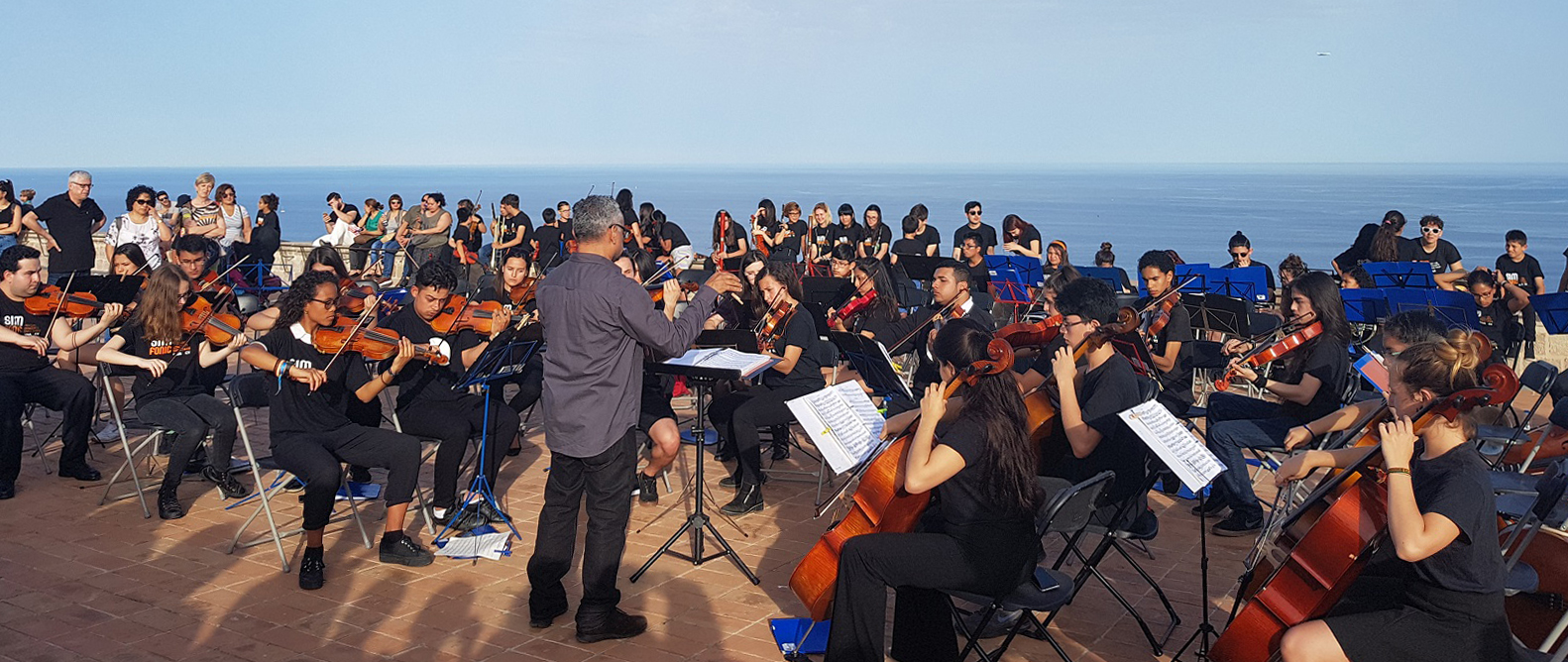 SIMFONIC Festival: June 8th, 2019 at 6:00 p.m. 9th edition
Day of 100 simultaneous and free concerts made by more than 5,000 students of music schools at 100 places of Catalonia and the Balearic Islands.
At 7:00 pm the 5,000 musicians will perform at the same time the song «Fins que arribi l'alba» in honor of the sponsors of the event of this 9th edition: Els Catarres.
The performances take place in such singular places as Nau Bostik in Barcelona, Pati de les Magnòlies in Girona,  Auditori Municipal Enric Granados in Lleida, Teatre Kursaal in Manresa, Palau Despuig in Tortosa or CaixaForum Palma in Mallorca, among others.
They are SIMFONIC cities in Catalonia:
• Province of Barcelona: ​​Barcelona, Cabrera de Mar, Caldes de Montbui, Cerdanyola del Vallès, Cornellà de Llobregat, Manresa and Vallirana
• Province of Girona: Girona, Banyoles, Figueres, Palafrugell and Vidreres
• Province of Lleida: Lleida, Alguaire, Cervera and Mollerussa
• Province of Tarragona: Tarragona, Camarles, El Perelló, Godall, La Sénia, L'Aldea, Reus, San Carles de la Ràpita, Tortosa and Ulldecona
They are SIMFONIC cities in the Balearic Islands: Palma de Mallorca, Campos, Inca and Llucmajor.
All the musical styles are present: you can choose classical groups like symphonic orchestras, chamber music, piano recitals, opera and choral singing; you can also go for swing concerts, jazz groups and gospel choirs; or you can enjoy pop-rock, funk, rap or hip hop. And for the most alternative, DJ sessions and electronic music or even traditional and popular music.
The SIMFONIC Festival invites you to enjoy in a different way the unique hidden spaces of your city with all kinds of musical performances. You just have to choose the space you want to visit and what style of music you want to listen. Do not trust the kind of space when choosing your concert; the mixture proposed by the Festival between music and architecture is surprising.
The project was born in 2011 by SIMFONIC Association with the aim of visualizing the task of music schools, making young musicians the protagonists.
The SIMFONIC Festival is designed for all citizens: youth, adults, seniors and families who want to spend a special afternoon enjoying good music in unique spaces and participate in a pioneering and innovative city project.
This project is possible thanks to the collaboration of 247 entities including the main sponsor of the event, the BBVA group.
The SIMFONIC association was born in 2010 with the aim of conveying the organization of the festival of the same name, with the mission of visualizing the task that music schools are carrying out and ensuring that young musicians are the protagonists.

C. de Calaf 20
08021 Barcelona
: 931.755.742